12 tips to promote your business
You need to get the word out about your products and services, but what's the best way to promote your business? Fortunately, you have options. In addition to tried-and-true business promotion methods, the rise of social media has created an abundance of new marketing opportunities. It's now easier and more affordable than ever to advertise. Learn more about how to promote your business with these digital marketing and social media tips.
Register your business with Google — it's the new yellow pages. It allows potential customers to find your company's location and hours of operation easily. Customers can also post reviews of your business. By setting up a Google My Business account, you can make your company more visible in online searches, extending your reach with a free form of advertising.
Optimize your website's SEO
Search engine optimization (SEO) helps your website show up higher in Google search rankings. Using relevant keywords throughout your business's web pages and blog posts increases the chance of users finding your site when they search online for businesses like yours. SEO involves much more than keyword usage, though, so it's helpful to do some research online or find a book that outlines how to prime your site's performance on search engines. You might also consider hiring an SEO agency to help optimize your website.
Any time your business does something notable or newsworthy, draft a press release to send to your local news outlets. These publications actively look for interesting stories and often use press releases to create articles. When they do, it gives your business free publicity and distribution, allowing you to reach a much broader audience.
How to promote your business on Google
Using Google to promote your business is a no-brainer. Capturing more than 90% of the market share, it's one of the best ways to get in front of consumers that are actively searching for solutions. Here are the best ways to use Google to get your name out there:
1. Create and verify your Google Business Profile
Your Google Business Profile (Google's term for your Google listing) is what allows your business to show up in Google Maps results, the local section of Google Search results, and also—when someone types in your business name (ideas for creative business names here!) and location—the right-side Knowledge Panel in Search results. As Google gets better and better at catering its results to the searcher's location, this free listing should be a top priority.
The key to using your Business Profile to promote your business is to verify ownership of your listing through your free Google My Business account. Once you have ownership, you can optimize your listing to show up higher in search results and for more relevant searches.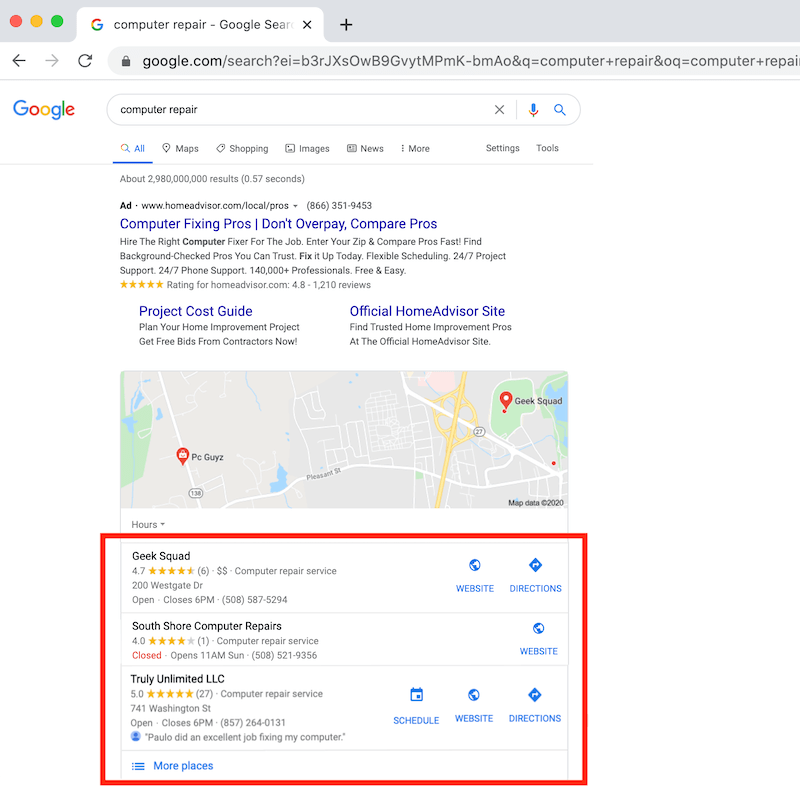 If you're ranking on Google Maps or showing up in the Local Pack (as seen above) of regular results pages (this is very doable), your business is basically promoting itself 24/7. Even better, you can publish posts directly to your Google listing, putting attractive promotions in front of your audience at a time when they have high intent.
2. Get a website
A website is a must-have piece of marketing collateral no matter how old-fashioned your business or clients may be. Your website is the go-to for current and prospective customers. Even if they find you on social media or Google, they will want to go to your website and, like your Google listing, it serves to promote your business around the clock.
A good business website not only serves as a promotional tool in and of itself—it tells the story of your business and what you offer, provides contact information, and reflects your brand's personality and distinguishing characteristics—but it is also essential for measuring and improving the success of your other promotional tactics.
For example, when you run ads, you need landing pages, which live on your website. When you post helpful information on social media, it should link to its home on your website. With all of your marketing channels flowing into your website, you can use analytics to see which strategies are working best and get invaluable insights about your audience.
Although there are completely free solutions to get a website in place for your business, almost inevitably you will need to move to some form of a paid website if you are serious about promoting your business. Having your own domain name, a professional look and feel, and the ability to scale and add features as needed are all essential for growth.
3. Implement search engine optimization
It's one thing for you to promote your business; it's another thing for Google to promote your business. SEO is a set of practices that align your business with Google's ranking algorithm. But because this algorithm has evolved to use machine learning and user behavior to produce the most accurate and quality results for searchers, optimizing for search engines is really just optimizing for searchers—particularly those searching for what you have to offer.
SEO isn't just one tactic, but many tactics that collectively work together to improve your rank. Also, because Google has superb location-based results, you have just as much of a chance as big retailers to show up on the first page of Google— without spending a dime! (With the exception of the costs to get a website, of course).
When your business is ranking high in results, Google is basically promoting your business for you—and not just to anyone, but to the people searching for what you have to offer. Doesn't get much better than that.
4. Create a business blog
We just touched on this in the previous strategy, but content is such an important driver of SEO that it really deserves its own category as a promotional strategy. A blog is not LiveJournal for businesses. Sure, you can create some posts about milestones and events, but a lucrative business blog is one that produces educational content, in your brand voice, around questions and terms your ideal customers are searching in Google.
How to promote your business using online directories
Consumers routinely visit online directories to search for and vet businesses that fit their specific needs. These sites tend to be high-traffic, long-standing websites with high domain authority, so it's not uncommon for your profile page or your business name to show up on the first page of Google through one of these domains. Online listings do not take long to create and can help enhance your online presence, promoting your business to nearby, high-intent customers.
7. Create listings on the major directories
Smaller directory sites pull data from larger ones, which means that by creating listings on the major sites, you'll also likely begin showing up on smaller directories automatically. Below is a list of the major directories to start with. All of them are free, but often have paid options for advanced features.
8. Optimize your listings
It's one thing to create a listing, but it's another to optimize it. By filling out every field in your profiles, adding photos, and collecting reviews, you can improve the appeal of your business and rank above competitors in searches. It's also important to make sure your information in all of your listings is consistent with the information on your website. Inconsistencies can cause the Goog to raise an eyebrow about your trustworthiness. Finally, be sure to monitor your listing and fix any inaccuracies, which can happen when listings are auto-populated. For more ways to optimize your listings, use the same post I linked to above (but I'll link it here just because).
9. Get online customer reviews
Word of mouth is one of, perhaps the most, powerful way of promoting your business to the right people. Testimonials on your own website are great, but reviews on official platforms like Google, Facebook, and Yelp are even better.
These websites can increase your exposure, and because they have measures in place to prevent fake or spam reviews, people trust the reviews here more than anywhere else. Plus, reviews are a major ranking factor for local search results. To get reviews, check out these posts:
10. Monitor and respond to reviews
Many online directories allow anyone to add a listing, so even if you didn't list your business, it may still be on there, collecting reviews. Be sure to claim your listings wherever possible, and monitor these sites frequently. This way you can respond to reviews—which is another great way to promote your business. Not only can you resolve (and even reverse) negative reviews, but the way you answer reviews (positive and negative) can reveal your brand's values and give potential customers an idea of what it's like to do business with you.
How to promote your business locally
Recent consumer trend data from Shopify revealed that more than half of North American buyers changed the way they'll shop going forward. One breakout trend has been support for local and small businesses. Here's how you can take advantage of this:
Create a Google My Business profile
"Google My Business gives local businesses a separate online presence other than their website," says Amy Falcione, founder of local marketing agency Big Picture Marketing. "Your listing gives a brief but detailed description of what your business offers and who you are."
Amy explains that people use Google My Business to check and see if you're legitimate. You can add photos and videos of your shop, and provide links to your website or appointment booking software. You can even give people a look inside your business to build trust and credibility with potential customers.
If someone decides they want to engage with your business, they have your contact information, website, and business address right in the listing. People can easily visit you online or in-person.
Join local events
A local event refers to any affair that attracts an audience from a local market. Artisan markets, craft shows, trade shows, and festivals are examples of events small businesses can promote themselves at locally.
"Right now, many local businesses are meeting online. They are using live streams and online meetups to show off products online and reach people at scale," Amy tells Shopify. "But as areas start to open back up, we don't want to overlook the power of local in-person events."
Local events help small business owners meet customers one-on-one and create individual connections. People can touch, feel, and smell whatever you're selling and interact with your products.
"Another way to promote your business locally is through workshops and lectures," says Amy. "For example, if you run a candle making business, you can run local workshops to teach people how to make their own candles. It's a great way to build your reputation in the community and increase brand awareness."
Offer local delivery
People are buying more from independent businesses. Our consumer trend data shows that nearly a third of buyers bought something online and had it delivered to their home during the first three months of the pandemic.
Offering local delivery is a smart way to capitalize on this trend. When a customer orders something from your online store, you can personally deliver it to their doorstep. It serves as an alternative to traditional carrier shipping and in-store shopping, and is a thoughtful way to sell to concerned customers.
Get local press
Another great way to promote your business locally is by getting local press coverage. Getting a story in the local news is not only free but can also drive thousands of potential customers to your website or local shop.
"Start by creating a press list of all the publications you want coverage in," Amy says, "then write your own press release and start pitching it to reporters. Make it easy for them by getting your own quotes and statistics and making your story sound newsworthy."
Press releases that focus on community empowerment encourage local reporters to cover your business. If you can nail down getting local press, you'll be able to capture your audience's attention and interest in no time.
Free: Press Release Template
To help you get started, we put together this template to help you structure your story using a common press release format. You can replace each component with your own information and adapt it according to your needs.
Get the press release template delivered right to your inbox.
Thanks for subscribing. You'll start receiving free tips and resources soon. In the meantime, start building your store with a free 14-day trial of Shopify.
Source:
https://business.chase.com/resources/grow/12-tips-to-promote-your-business
https://www.wordstream.com/blog/ws/2020/11/02/promote-your-business
https://www.shopify.com.sg/blog/how-to-promote-your-business